This stable version of the Guideline Wiki Page displays the guideline as per the i* Style of the University of Toronto. Registered users can use 'Open Version' link right at the end of the guideline statement below to access the open version of this page
Guideline (Beginner,Layout)
Connect each Strategic Dependency Link in an SR model to the correct element within the actor.
Open Version
Discussion:
The purpose of SR models is to show and analyze how the dependencies are satisfied between Actors. Connecting the Dependency Links their internal elements of the dependency helps in achieving the objective of SR models. In some cases, however, when the model is incomplete (in progress) and the internal element for a dependency is not known, the Dependency Link may remain connected to the Actor, as in the SD model, or remain connected to the Actor boundary. As shown in the illustration, when the internal elements of an actor are known, the Dependency Links are connected to the correct, internal elements, not to the Actor or Actor boundary. Applying this guideline helps in developing more accurate and usable models.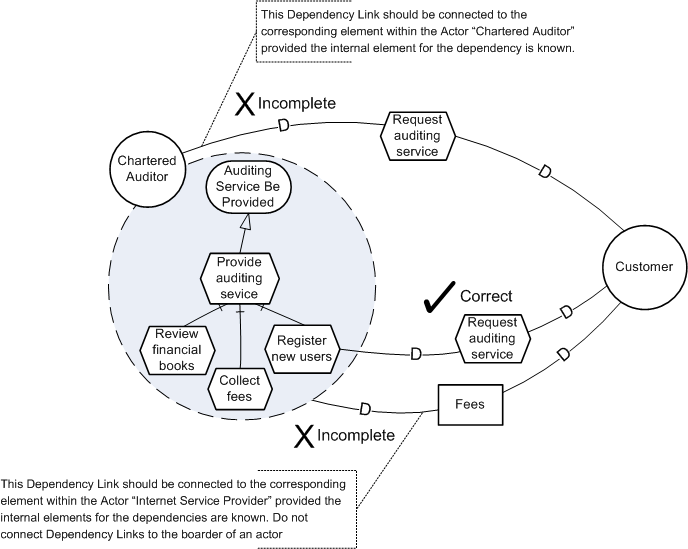 For questions regarding i* syntax please click on the "discuss" tab. This feature is available for registered users only. For registration information please see the
Registration and User Rights Policy for the i* Wiki
.