This stable version of the Guideline Wiki Page displays the guideline as per the i* Style of the University of Toronto. Registered users can use 'Open Version' link right at the end of the guideline statement below to access the open version of this page
Guideline (Beginner, Evaluation)
Give initial labels to all leaf elements, even if they are not directly involved in the analysis question.
Open VErsion
Discussion:
It is also often necessary to gives initial labels to leaf elements that are not necessarily directly related in the analysis question in order to have sensible propagation results. In Figure 2 of Evaluation Step 2, the initial label for Produce PC Products is an example of this case. For this analysis question, the modeler does not directly care if actors produce products, but this is a leaf element that needs to be given a value in order to find sensible results for not allowing peer-to-peer technology.
Even if a leaf element which is not involved in the analysis question is not needed to provide sensible results, it is useful to provide a starting evaluation value for it. Contribution links are produced to consider cases where elements are both satisfied and not satisfied. If a component is not implemented or "turned-off" in a design alternative, this should be reflected with a denied label, in order to have the effects of not implementing an element accounted for.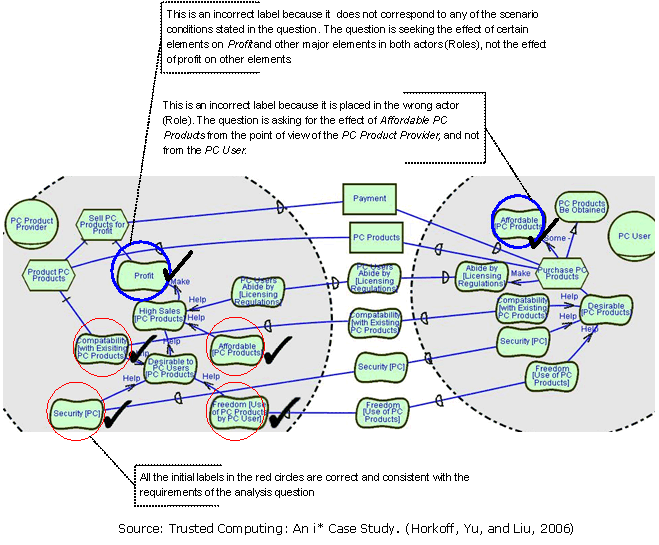 For questions regarding i* syntax please click on the "discuss" tab. This feature is available for registered users only. For registration information please see the
Registration and User Rights Policy for the i* Wiki
.