This stable version of the Guideline Wiki Page displays the guideline as per the i* Style of the University of Toronto. Registered users can use 'Open Version' link right at the end of the guideline statement below to access the open version of this page
Guideline (Beginner,Concept)
Model a human or system as a resource only if you want to ignore their goals and intentions.
Open Version
Discussion:
An Actor is an entity that performs an activity or an action. If the Depender depends on an entity to perform a task, action, or activity to fulfill, satisfy, accomplish, or achieve a goal, then that entity is modeled as an Actor, not a Resource. In the supplied example, "Online Payment System" and "Telecom Technician" are not passive deliverables, but active elements that performs action within the overall model. Therefore, they need to be modeled as some type of actors. Moreover, the modeler decides if it is useful to model the Goals and intentions of the "Telecom technician", for example, then it should be an Actor, otherwise, in a simplified model, it could be a resource.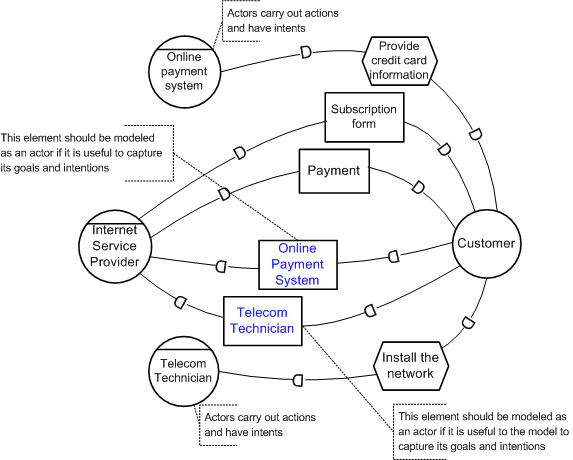 For questions regarding i* syntax please click on the "discuss" tab. This feature is available for registered users only. For registration information please see the
Registration and User Rights Policy for the i* Wiki
.