This stable version of the Guideline Wiki Page displays the guideline as per the i* Style of the University of Toronto. Registered users can use 'Open Version' link right at the end of the guideline statement below to access the open version of this page
Guideline (Beginner,Concept)
Use multiple Means-End Links from Tasks to a Goal to indicate alternatives.
Open Version
Discussion:
Using this notation gives the modeler a way to analysis the alternatives of satisfying a Goal. The impact of each alternative on the Softgoals or NFR of the system is analyzed using Contribution Links such as: Make, Some+, Help, Break, Some-, Hurt, and Unknown.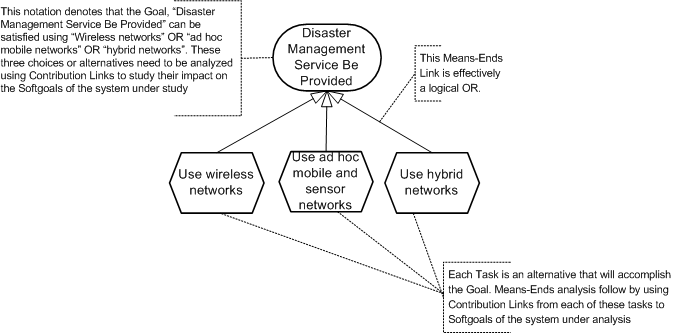 For questions regarding i* syntax please click on the "discuss" tab. This feature is available for registered users only. For registration information please see the
Registration and User Rights Policy for the i* Wiki
.