This stable version of the Guideline Wiki Page displays the guideline as per the i* Style of the University of Toronto. Registered users can use 'Open Version' link right at the end of the guideline statement below to access the open version of this page
Guideline (Intermediate,Layout)
Don't extract or zoom into a section of an Actor in a model without showing the incoming and outgoing dependencies with other Actors or parts of the model.
Open Version
Discussion:
Zooming into or extracting a section of a model is one way to facilitate working and analyzing sections or parts of a large or complex model. Zooming, however, need to be dealt with cautiously. All the related incoming and outgoing links of the zoomed section need to be shown. Neglecting or missing some of the links leads to inconsistent model, which can be hard to read, interpret, understand, and communicate.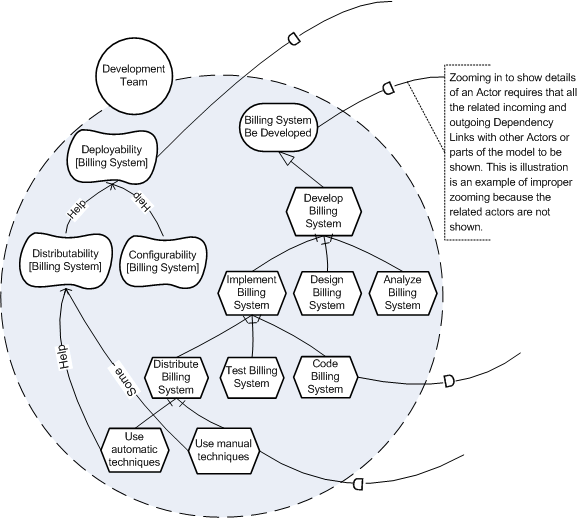 For questions regarding i* syntax please click on the "discuss" tab. This feature is available for registered users only. For registration information please see the
Registration and User Rights Policy for the i* Wiki
.